Strachociny. Strzeż się stracha
"Strachociny" to nowa polska seria dla fanów opowieści grozy.
Lubisz czuć gęsią skórkę na ciele i przygody z dreszczykiem? Zapraszamy do Strachocin, miasta pełnego przerażających legend, które mieszkają bliżej, niż ci się zdaje… W Strachocinach się od nich nie uwolnisz!
Patryk Szarewski krótko cieszył się nowym rowerem. Skomplikowana akrobacja na leśnej ścieżce kończy się bolesnym upadkiem i roztrzaskaniem prezentu od rodziców. Jak się przed nimi wytłumaczy? I jak ich przekona, że gonił go NAJPRAWDZIWSZY strach na wróble…? Przyjaciele też mu nie wierzą, ale wystarczy zajrzeć do miejskiej kroniki, aby się przekonać, że przerażająca legenda ma wiele wspólnego z prawdziwymi wydarzeniami.
"Strachociny" to nowa polska seria dla fanów opowieści grozy. Jej bohaterowie, młodzi mieszkańcy Strachocin, niezwykłego miasta pełnego dziwów, w każdym tomie przeżywają niesamowitą przygodę, od której włos jeży się na głowie. Książki możesz czytać niezależnie od siebie. O ile się odważysz…
Fragment:
Straszydło buszowało w jego małym królestwie. Chłopak rozpoznał stracha na wróble. Jego łachmany śmierdziały, a patykowate ręce przewracały zabawki. Targały książki i komiksy. Strach skakał na jednej nodze, którą był długi, szeroki badyl. Wszędzie, jak okiem sięgnąć, było siano, które wylatywało mu spod łachmanów. Przerażony Patryk westchnął głośno. Za głośno. Straszydło go usłyszało. Zatrzymało się. Przestało rozrzucać zabawki. Powoli, bardzo powoli odwróciło głowę, ukazując rzędy ostrych zębów i palące się bursztynowym światłem oczy. Patryk zamarł. Znów poczuł, jak jego nogi zmieniają się w galaretę. Znalazł jednak w sobie siłę, żeby się odwrócić. Pomknął w stronę sypialni rodziców. — Mamo! Tato! Ratunku! — krzyczał tak głośno, jak tylko mógł. Czuł, że straszydło jest tuż za nim. Widział jego cień padający na panele w korytarzu. — Otwórzcie! Błagam! — Dobiegł do drzwi pokoju rodziców i walił w nie z całej siły. — Czemu nie otwieracie?! Pomocy! Zaczął płakać. Po jego policzkach spływały kolejne łzy. Nie przestawał uderzać w drzwi, pełen nadziei, że tata lub mama już do nich podchodzą. I wtedy poczuł, jak na jego karku zaciskają się patykowate palce. Straszydło go dorwało.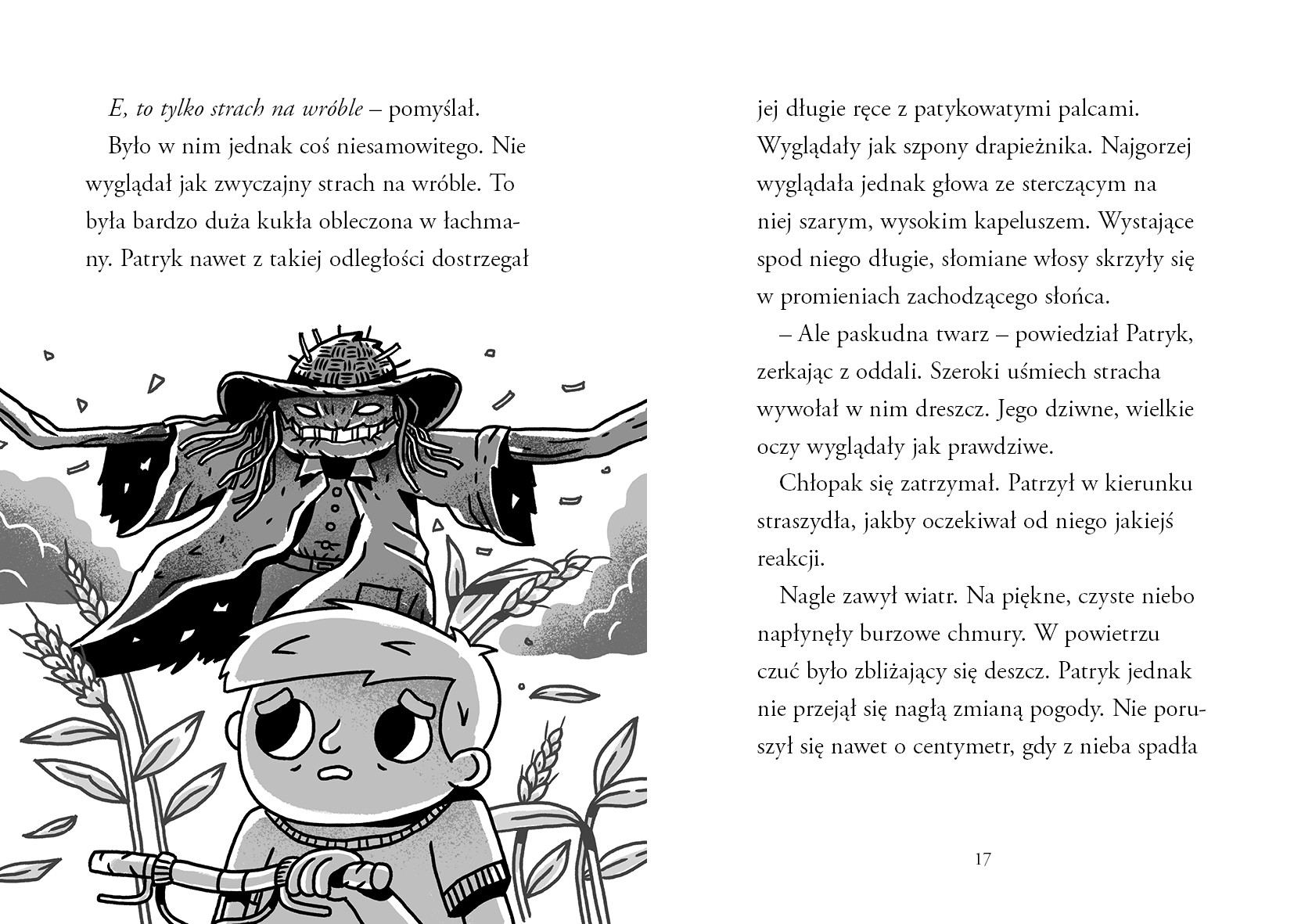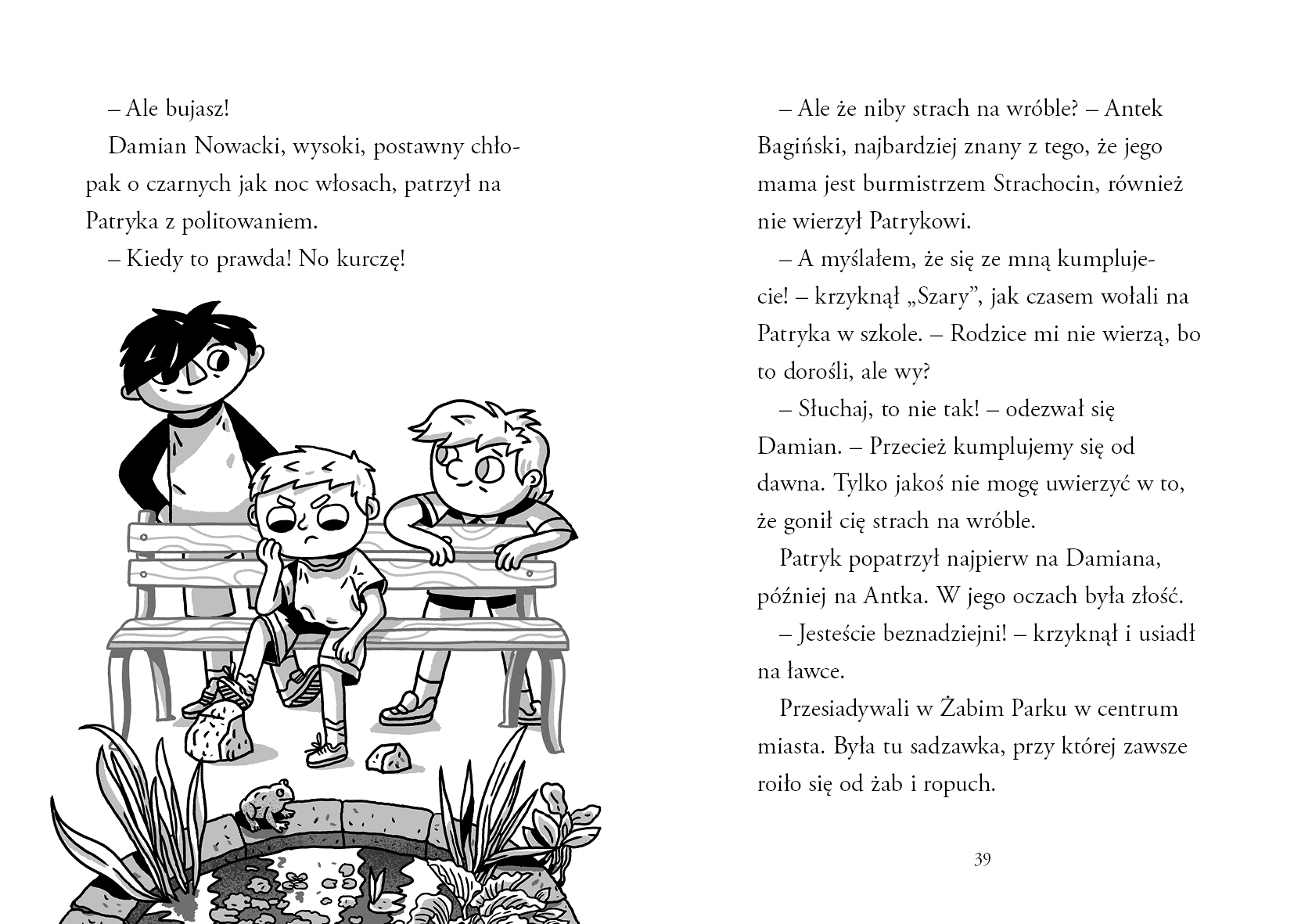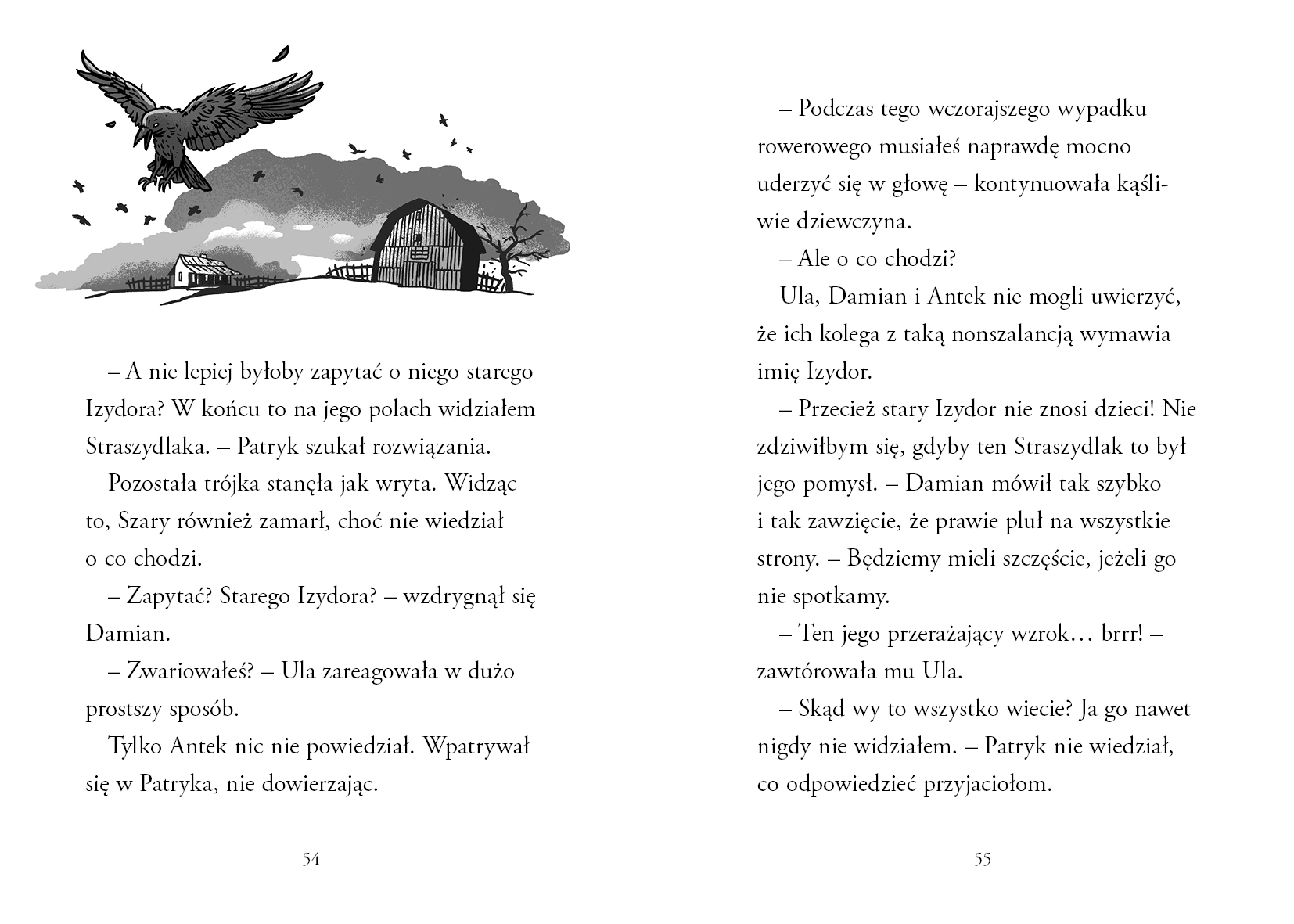 Strachociny. Strzeż się stracha
ISBNMore
Niepowtarzalny dziesięciocyfrowy, a od 01.01.2007 13-cyfrowy identyfikator książki